Reader Reviews

Don't take our word for it,
this is what the people are saying*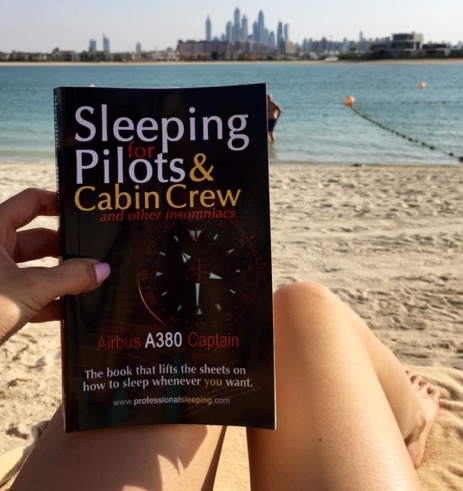 Reader-sent pic. Any more? Send 'em in please


____________________________________


Essential Reading For Aircrew
(& anyone else working
the backside of the clock)!


I gave up a career that I loved, in large part because the night shifts, and subsequent fatigue, were killing me. Had this informative, well researched, and humorous book been available, I might still be flying.


— I.H., (former) A380 Captain




____________________________________


Far More Than An
Insomniac's Handbook


This is far more than a sleeping guide. It has great advice on how to live a happy, content, safe and healthy life in the 21st century. There is a wealth of information for all travellers. Nice format, well written, humorous, and a fascinating insight into the life of pilots, crew, and cabin staff. The chapter on mosquitoes is now scarily topical - and I can't get the bed bugs out of my head!

— J.McKie





____________________________________


Original Ideas Win


It is always the original ideas that win with books … and this is one that most people have been waiting for someone to write.

It's a non-biased opinion. It's very well-researched and well-written … deserves to be read.

— NAVJOT SINGH (photo-journalist HERE)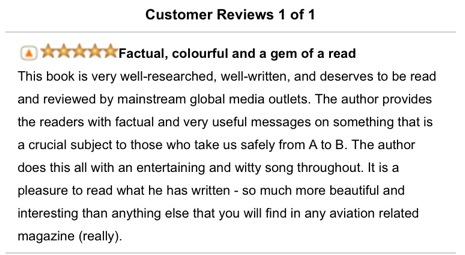 ____________________________________

5.0 out of 5 stars

Discover how to
sleep again while
laughing at some
hilarious anecdotes!


I am not in the aviation industry but I am, unashamedly, a 'plane nerd'! I thoroughly enjoyed the little glimpse into the world of those working in the industry but also the author's common sense and natural approach to achieving the perfect night's sleep. I would highly recommend this book and I look forward to reading more from this anonymous A380 captain!

* I would just like to add that after reading this book, I have made a few simple changes to my sleep routine, as recommended by the author, which has resulted in a whole week of unbroken sleep through the night ... 9 hours of unbroken sleep I might add! Thank-you!


— Trish on July 22, 2016




____________________________________


Can't sleep? Read this!


Whether your workplace is six miles up in the sky or not, this book will appeal to anyone who has difficulties finding a good night's rest.

Fascinating facts are compiled into an easy read as the anonymous pilot takes us on an entertaining journey confronting the causes of sleeplessness. From bed bugs to booze, sunlight to sex and and just about everything in-between; the author interweaves his own experiences with scientific facts, coming up with (thankfully) achievable solutions!

This review is from: Sleeping For Pilots & Cabin Crew (And Other Insomniacs) (Paperback)

— By OJ




____________________________________


Excellent, informative
and enjoyable reading.


I took this book away on holidays and have not put it down in three days … an enjoyable, informative and interesting read. The author has brilliantly described the life of airline crew, clearly done a lot of research in addition to personal experiences, and I'm sure many will benefit from the work. Importantly, the author comes across as well trained, highly experienced, professional and a most decent person, which is what I would want and expect from an airline Captain. Our lives are in the hands of airline pilots when we travel and to feel safe, and to trust in a well rested, experienced pilot makes the world of difference to an enjoyable flight, with sleep if necessary. Thank you Captain, for sharing your world, and your advice with readers, and I wish you every success as an author. Safe flying, and peaceful sleeping...




— Dianne (ex Flight Attendant )



____________________________________



Highly Recommended


NOT only will this book benefit Pilots, Cabin Crew and other insomniacs, but I consider this to be a great COMPANION book for ANY traveller.

A delightful and easy read, with well-researched topics full of great information and very useful tips … from the effects of low Vitamin D levels, Mosquitoes, and the prevention/precautions of Malaria and other related diseases, prescription, OTC meds and illegal drugs are just a few of the many topics which I found particularly interesting.

Oh, and the thought of Bed Bugs will no doubt be lingering in the back of my mind when next I check into a hotel room.

But what I enjoyed reading the most was the Author's Logbook stories which were so wonderfully entertaining. So, if he were to consider a future book compiling stories from his travels over the last few decades, I'd SNAP it up in a heartbeat!


— njliddell (ex Flight Attendant )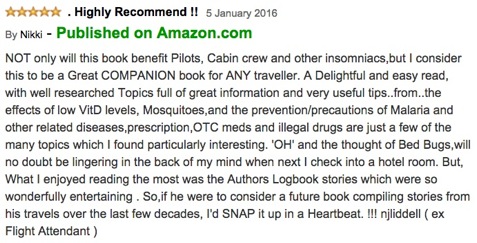 ____________________________________


A great read for anybody who travels


As a current Flight Attendant, I waited eagerly for this book to be published. After all my 31 years of short and long haul flying, I still needed to get my head around this fine art of 'natural sleeping' business!

This book did not disappoint!

Three decades in the life of this pilot has produced amusing real life stories, the highs and lows of a somewhat unknown career and of course - well researched chapters on how to form natural sleeping habits.

I thought it would be a book only Airline Crew may appreciate, however on reading through its chapters I realised it is a book for anybody who has, or is contemplating travel Domestically or Internationally.

The tips on sleeping, security, health welfare and much more when travelling as crew, on business, holidays, seasoned travellers or newbies are invaluable.

Well researched, witty and a great read!


— Miss Jane, Cabin Crew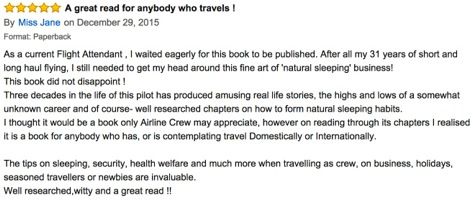 ____________________________________



I've been in the airline industry for nearly 40 years and I go along with everything you suggest.

Light-hearted, entertaining, easy to read and can even help to send you to sleep! (Even better than FCOM)*


— Anon




* FCOM is the Airbus Flight Crew Operating Manual. They used to be in print. The A380 FCOM is now only available as an ebook as it is over 1,900 pages. They are well-known for putting pilots to sleep. Reading three pages of 'Franglaise' (English written by a Frenchman) will put anyone to sleep. They have gone to eBooks because of the potential legal payouts if a Pilot fell asleep and dropped the manual on their head.

____________________________________


Informative & Funny


Whilst not a pilot or cabin crew, I decided to request a 'review' copy of this book after I read the word 'Insomniac' in the title. I'm not exactly an insomniac but wondered if I could pick up some tips to help me get to sleep.

I found this book interesting, well researched, informative and funny.

In the days since I read the book, I've found myself putting to use some of the tips mentioned.

Also, since finishing the review copy, I have ordered a copy from Amazon which I will read again when it gets here to Australia. Thank you Anonymous Captain; your book was a delight to read. Good luck with sales; you deserve it after clearly putting in so much work in researching for this book. Well done - loved it!

— Anon



____________________________________

"I am very impressed with your writing and humour. I am not a big reader but it's so easy to read and funny - love it!"


— C.M., Long Haul Passenger

____________________________________



Business Traveller Reviews:


From someone who spent 15 years flying in and out of Australia for work, frequently arriving in the early hours of the morning after 35 hours of travel and needing to be 'work ready' for the next day, this was the guide I needed back in the nineties and the noughties.

The stress of how to get sleep when the body clock is more than 8 hours out! This book unearthed my past, bringing it vividly back to life.

How does one continue to maintain health, well being and high levels of performance living a life style straddling so many different time zones?

Lack of sleep is enemy number one. The author raises the important issues that I personally struggled with - a growing dependency on sleeping tablets, the false lure of a couple of drinks on arrival to help lull the senses, not to mention those guzzled during the flight as a sleep aid.

Along with other tips, including a 'heads up' on medications for diseases such as Malaria, easily ignored if one manages to continually avoid falling prey to the dreaded carrier mosquito, the importance of locating and remembering the fire escape route, and common sense things like snacking on too many comfort foods, keeping fit, finding the 'Do not disturb' sign and the door chain to provide protection from unwelcome visitors, the author successfully brings us a detailed inventory of actions and pointers neatly recapped at the end of each chapter.

The section on room preparation was spot on, though, unfortunately I did few of these things.

'Sleeping for Pilots and Cabin Crew and other Insomniacs' brought it all back for me as a frequent international traveller - it was just 20 years too late!

An excellent read for those wanting to avoid these travel mistakes and for those still making them.



____________________________________





At last an enjoyable easy-to-read book on the dreary subject of sleep for Pilots, Cabin Crew and folk with overwhelming work/sleep schedules.

There IS hope. Whilst reading I am motivated by what I already do (e.g. plenty pre flight rest), re-reminded of what I know but don't do all the time (negative talk!) and, well there is one thing I won't do (set an alarm to wake up for social activity on a layover).

It's very human, and I will brush-up frequently on the easy-to-use RECAPPING section on the end of each chapter.

The 'FROM THE LOGBOOK' parts are hilarious.

Overall its as inspiring as having a conversation with a good friend on this subject.


— K.L.,777 Captain

____________________________________

'Trying to study for the simulator but made the fatal mistake of uploading "Sleeping For Pilots & Cabin Crew" onto my kindle!

I cannot put it down and laughing out loud at some anecdotes...

Every shift worker needs this book!'

' … as entertaining as Bill Bryson's books I reckon! '



— C.J., Boeing 777 Captain

____________________________________



'Really enjoying reading your book.

You made me read books again after all these years'


(after two weeks):

Cured? Not sure yet. More to peruse, but sleeping MUCH better.


— Flight Crew Member

____________________________________

I've read the book and it was so good I read it TWICE! You must be very pleased with it.

It is great and I don't think you/anyone could have done anything better. It has so much information but all in a very easy to read, entertaining way. I enjoyed learning about things I didn't know, whether about sleeping or other things. Also, about what it's like to be a pilot from a day-to-day point of view.

Of course, everyone is going to be looking forward to the "From the Logbook" sections which is a great idea to have and, sometimes, hilarious!

It's all very professional and shows you have a great talent for writing.

Hoping it makes the best-seller lists.



— My Sister. (She really is UNbiased)

____________________________________


My first positive reaction is to your style – predictable, bright and breezy. It is you.

The manuscript is most readable, even for those who don't have a sleep problem due to employment.

By the last page there is my admiration for your extensive research, which did not evolve over a week or three. And the responsibility for that.



— Derek Scales. (Historical Fiction Author of three books, see his page HERE)

____________________________________




THE WORST REVIEW

A two-star review can really affect sales, so you want to make sure that review is honest and truthful. You can have bad reviews removed if they breach guidelines, but I prefer to leave them all up for honesty. As for this? Despite having paid for the paperback, one wonders if they have read it.



Disappointing same old advice
By safenet on December 31, 2015


First - I am not a pilot, nor am I in the airline industry but the title clearly says for anyone who is an insomniacs.

When I saw the title / description I thought "if anyone would know how to get to sleep fast - it would be pilots".

Nope, seems they follow the exact same old advice we (I) have read everywhere else. Avoid Caffeine / TV / Computer screens. Get exercise. Also some truly odd advice on bed bugs, don't get addicted to ICE or take illegal drugs.

NATURALLY, I had to reply:

Dear Safenet, I am very sorry you were disappointed. Please contact me at the eddress in the book and I will gladly refund your purchase.

[Obviously the copy you received didn't include the important information on how we get to sleep when we want (on Page 27).]

(Still waiting for the email…)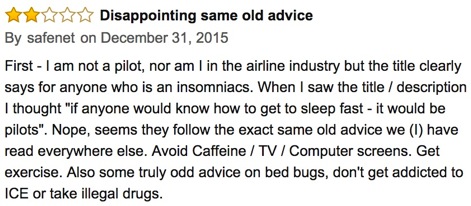 * In some cases the person was provided with a copy of the eBook text and asked for an HONEST review. In others, they bought the book from Amazon.